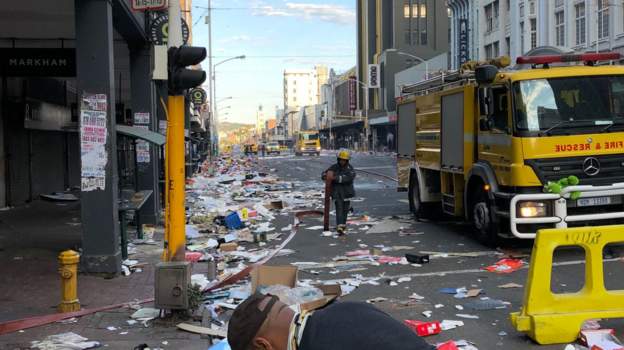 Long queues for fuel and food have formed in the South African coastal city of Durban after looting and rioting destroyed businesses and caused them to close shop.
Business owners in the city are slowly returning to their premises to evaluate the damage following days of unrest. Our team filmed one of the looted shops:
Many businesses have been totally wiped out and destroyed after angry mobs looted virtually every shop in the centre and the city's malls.
Firefighters lined the street early in the morning to begin the gruelling process of cleaning up the mess in Durban.
Empty shoe boxes, broken dishes, rotting food and debris lines virtually every street in this once-bustling city centre.
Some residents have also joined in armed with brooms.
They have been chasing away anyone trying to loot whatever is left.
Long queues are forming outside supermarkets as people grapple with the shortage of basics.
Fuel shortages have been reported in some parts as the transportation of fuel has been affected.
It will take a while to clear the trail of destruction that left at least 72 people dead, with more than 1,200 others arrested across KwaZulu-Natal and Gauteng, the two provinces affected by the violence sparked by the jailing last week of former President Jacob Zuma for contempt of court.